Viomar Ltd was founded in 1994. Since then it has been established in the Marble, Granite, Industrial Quarry (Quartz), Acrylic and Porcelain Plates Industry.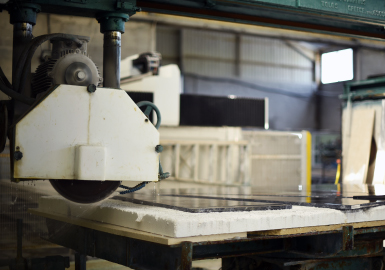 Always having large inventories and a diverse collection of rocks from Greece, Italy, Spain, Portugal and China, Viomar Ltd has established strong partnerships with architects, interior decorators and designers, engineers and contractors all over Cyprus. It is the constant desire for development and growth that has preserved Viomar Ltd among the first positions of the Marble and Industrial Rocks trade in Cyprus and the main purpose of our company is the continuation of this successful course.
Viomar Ltd has witnessed a rapid increase in its commerciality in recent years, which mainly relies on its ability to respond directly to the specific needs of its customers, with the largest stocks of marbles, granites, industrial rocks, synthetic marbles and Porcelain Plates. The partnerships that Viomar Ltd has developed with the world-known companies that deal with such products are mirrored in the excellent quality of its products. Viomar Ltd has established high standard values and has been working unceasingly for over 25 years, with the main goal of satisfying its customers anywhere in Cyprus.
Moreover, having its own stone processing factory since 1994, Viomar Ltd can provide excellent quality products in combination with the high service that characterizes it, while its experience and detailed knowledge of the particular industry makes it today capable of satisfying a large number of customers all over Cyprus.
Viomar Ltd has two privately-owned exhibition Showrooms.
Doxas 2, 7101 Aradippou, by the Larnaca - Nicosia road, which is the central artery of the most important industrial area in Larnaca.
Arsinoes 1, Strovolos Nicosia.
We are continually evolving and our greatest desire is to benefit our clients from our own progress.
Throughout the years, Viomar Ltd has managed to win and maintain the trust of the Cypriots by keeping high standard quality products and unique unrivalled service. Today, Viomar Ltd is one of the pioneers and leading companies in the field.
With a proprietary ultra-modern factory, state-of-the-art CNC 5 AXIS and CNC 4AXIS machinery, specialized and full skilled workforce, Viomar can provide a wide range of raw materials and finished products.